Baja RV

Caravan Tours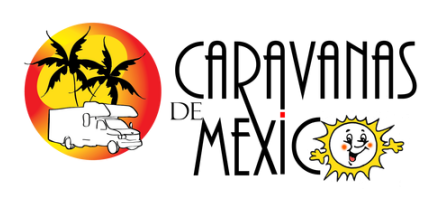 A couple of slots have come available for 2024 (Sept, 2023). Contact [email protected] if interested. We are not booking for 2025 until Nov 2023. There are 2 LTV trips. A non LTV will run mid Feb

What makes us diferent from our competitors?. Well for starters we are pretty well one of only 2 companies running tours on the mainland. We have several competitors in Baja. If what is included is not laid out on theri web iste, ask them. It may, or may not, be a better deal. We are upfront about how many escorted tours and high quality meals you get on each tour. A soggy sandwich and a coke are not part of our tours. Read through our competitors web site and see if they do the same. Are individual tours and meals laid out there? Do they expect you to car pool to attractions in your own vehicles? Ask them exactly what is included and what is optional. Our history is in escorted bus tours (we still do them) and that is what we carry over into our RV Caravans. Maybe you just want an escort. In that case some of the almost free trips offered by one or two RV parks in exchange for staying there, are for you. Very little in our tours is an optional add-on. Do they have access to Spanish speaking tour guides all over Mexico if you need assistance? Probably not. We have had to leave people behind before and so has everybody else. What sort of support is provided to you if you find yourself with a breakdown. I am just not marketing when I say we are the best. We are based in Mexico and have access to many more resources and we do not have to contract out. Furthermore we only use professional registered tour guides, not do ad hoc tours led by the Wagon Master, unless they are free extras. Are you going to be in high quality RV parks? To be honest, some are pretty basic, It is Mexico, not Disneyland. We use the best accomodation we can in each area, however. Our company owner, is himself, a fully registered tour guide. We have had many customers who have used our competitors, and most tell us our trips are far better value for money. It's not just a case of "You get what you pay for", it's a case of "You get more than what you pay for" Our prices are on our "Prices" page. See Details above.



Spring 2025: 36 days - Feb 20
Price $5450 US.


8 tours, 15 meals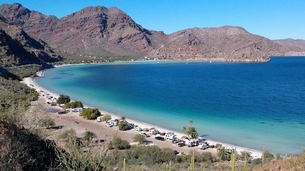 We get asked why we are pricier than our main competitors. Do not compare apples and oranges. While our competitors may run fine tours, you need ot find out what is included and what ois extra. Ask them how many meals are included and how many tours are included and how many do you have to pay yourslef. Do they use professional guides or does the Wagon Master act as tour guide. What appears cheaper may not in fact be any cheaper. We clearly state how many meals and tours are included. We do not expect to ride share or use your own vehicles on tours.

Spring 2024 Itinerary: See Below. 2025 itinerary up Spring 2024


Our Route. See itinerary below for stops

Please note the map below gives the impression we go all the way to Cabo. Los Barilles is actually the furthest south, there are no longer any RV parks in Cabo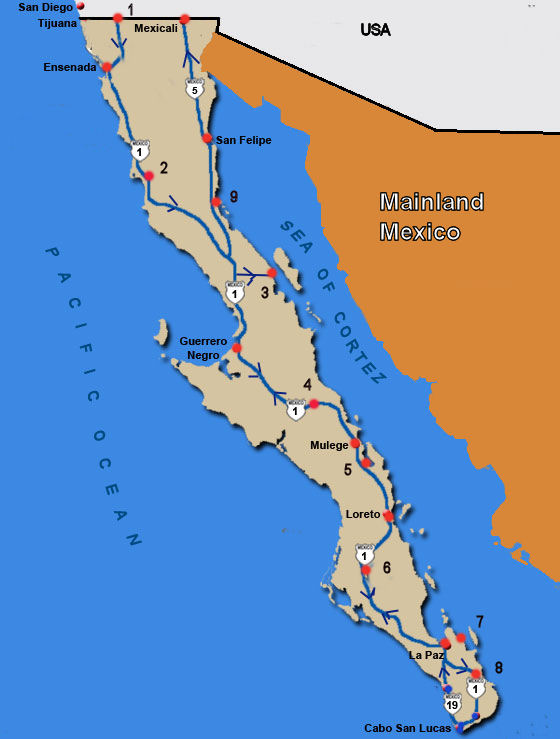 Day

Location

Info

Tentative Dates

Day 0

Potrero, Ca

Meet in morning, do paperwork,, cross border next morning

Feb 19

Day 1,2,3

Punta Banda

Wine Tour. La Bufadoa & Paipal Zoo and Farm Tour. Meals

Feb 20,21,22

Day 4

Nuevo Odisea

Overnight

Feb 23

Day 5

Catavina

Overnight

Feb 24

Day 6,7

Guerrero Negro

Whales

Feb 25,26

Day 8,9

San Lucas

Tour and meal

Feb 27,28

Day 10,11,12

Mulege

City Tour, Lunch, Cave Paintings

Feb 29, Mar 1,2

Day 13,14,15,16

Bahia Conception

Beach stay, tour & meal

Mar 3,4,5,6

Day 17,18

Loreto

Beach stay, tours

March 7,8

Day 19,20,21,22,23

La Paz

City tour, Todos Santos, boat tourmeals

Mar 9-13

Day 24,25,26,27

Los Barrilles

Boat tour, meals

Mar 14-17

Day 28

La Paz

Overnight

Mar 18

Day 29

Mulege
overnight;
Mar 19

Day 30

San Lucas

overnight

Mar 20

Day 31

Guerrero Negro
Overnight
Mar 21

Day 32,33

Bahia Gonzaga

.

Overnight
Mar 22,23

Day 34,35

San Felipe

.

., Meals
Mar 24,25

Day 36

Calexico, Ca

.

Border
Mar 26
.
Note this is the ferry extension Group that splits off on March 19th
Day

Location

Info

Tentative Dates

Day 29,30

La Paz

Waiting for Ferry

Mar 19, 20

Day 31

Ferry to Los Mochis or Mazatlan
overnight;
Mar 21

Day 32 - 36

Las Glorias

Tour and beach

Mar 22-26

Day 37-41

Celestino
Beach,
Mar 28-31, Apr 1

Day 42-47

Mazatlan

.

Beach
April 2-6

Day 48 on

Mazatlan or Durango

.

Eclipse
April 7 onwards
.
Remainder depends on exit option chosen